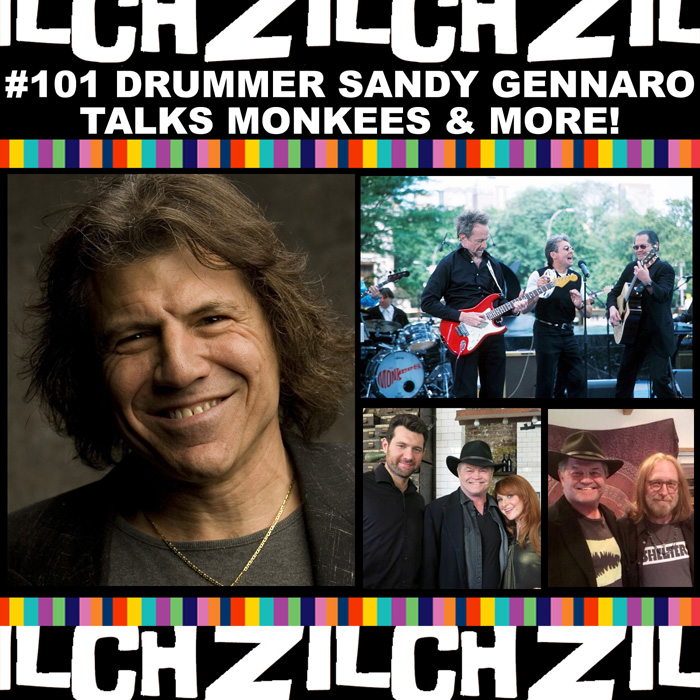 While at the Rock n Pod Expo recently, we sat down with former Monkees drummer Sandy Gennaro who was gracious enough to give us an interview. Sandy was the Monkees drummer from 1987-2012, but has also drummed for many other acts, including Joan Jett, Cindy Lauper and more. We also bring you the latest in Monkees news including a discussion of Potty-Mouth-MIcky on HULU's "Difficult People", the Monkees meet the Archies in the comics, and more.
This episode was recorded outside of our normal studios, so the sound quality is a bit raw. We hope you enjoy the energy this brings to the episode!
Everyone in Zilch Nation want to wish Monkees bassist John Billings and his wife Amy a very happy anniversary!
Micky is on tour and The "50 summers of love" tour is coming.
www.mickydolenz.com
for all info.
Meet and greet tickets can be purchased here:
www.monkeemeetandgreets.com/micky-dolenz-solo-dates-2017
50 Summers of Love dates:
Friday, October 13, 2017 The Family Arena, Saint Charles, MO
Sunday, October 15, 2017 The Genesee Theatre, Waukegan, IL
Friday, November 3, 2017 Ameristar KC, Kansas City, MO
www.facebook.com/summersoflove
Micky solo dates:
10/20/17--Agoura Hills, CA-- The Canyon
10/21/17--Beverly Hills, CA-- The Saban Theatre
12/16/17--Bay City, MI-- State Theatre
Peter Tork will be appearing along with Peter Noone of Hermans Hermits, The Grass Roots and The Buckinghams at the Theatre at Westbury in Westbury, NY on October 21 for the Hot Autumn Nights show
Tickets are available at
www.venue.thetheatreatwestbury.com/
Autographed & Personalized Copy of Meow! My Groovy Life by ANN MOSES
http://annmoses.com/
Videoranch now has IN STOCK The INFINITE TUESDAY An Autobiographical Riff Hard Copy!!! Every copy of Infinite Tuesday bought through Videoranch comes signed by Nez with a free option for personalization. Videoranch is the only place to buy your signed, personalized book at no extra cost! To personalize your copy, simply enter your name or desired message in the "Request for personalization" field on the order page. Videoranch allows you to enhance your Riff by offering the companion musical compilation - Infinite Tuesday: Autobiographical Riffs: The Music - on both vinyl and CD. The first 50 customers who bundle the Infinite Tuesday book, vinyl, and CD in one order will get a FREE Movies of the Mind tote bag! All Infinite Tuesday items come signed and have an option for personalization. Go to
videoranch3d.com
We were born to love one another.
Check out our Zilch Shirts!
Join our Facebook page
Find us on Twitter @Zilchcast
Download (right click, save as)