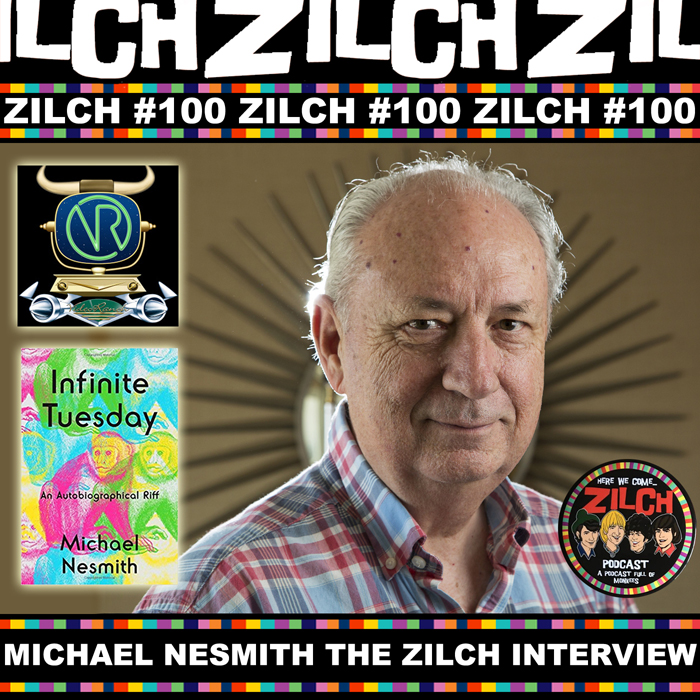 Happy 100th episode. Ken Mills interviews Michael Nesmith in the Zilch HQ!
It finally happened! Thank you for listening! Thank you for being part of "Zilch!"
See Nez at Chiller Oct. 27-29, 2017,Hilton Parsippany, NJ Get "Infinite Tuesday", Music & More signed by Nez at
www.videoranch3d.com
Videoranch now has IN STOCK The INFINITE TUESDAY An Autobiographical Riff Hard Copy!!! Every copy of Infinite Tuesday bought through Videoranch comes signed by Nez with a free option for personalization. Videoranch is the only place to buy your signed, personalized book at no extra cost! To personalize your copy, simply enter your name or desired message in the "Request for personalization" field on the order page. Videoranch allows you to enhance your Riff by offering the companion musical compilation - Infinite Tuesday: Autobiographical Riffs: The Music - on both vinyl and CD. The first 50 customers who bundle the Infinite Tuesday book, vinyl, and CD in one order will get a FREE Movies of the Mind tote bag! All Infinite Tuesday items come signed and have an option for personalization. Go to
videoranch3d.com
We were born to love one another.
Check out our Zilch Shirts!
Join our Facebook page
Find us on Twitter @Zilchcast
Download (right click, save as)